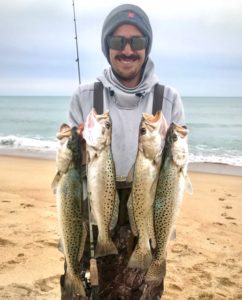 When people think of fishing on the Outer Banks of NC, they often think of big fish caught from even bigger boats.  The Outer Banks is known for its offshore sportfishing fleet, but that is not the only fishing to be had on the Outer Banks.
Many locals fish, "off the beaten path" with great success.  Mikey Sabadic, a local, avid fisherman, is gaining popularity by doing just that.  He has created kayak fishing adventures, tailored specifically to his clients.  Whether you are an experienced angler, new to fishing, young, old, or in between, there is a fishing adventure for you.  Mikey, through his company, Island Life Outfitters, is sharing his love and knowledge of fishing with clients, from near and far, that want to experience more of what the Outer Banks has to offer.
We asked Mikey a few questions about his fishing adventures:
Tell us a little about yourself?
I am 27 years old and live in Kitty Hawk. I was not born here but have lived here since I was 4 and I've been fishing ever since.  I am the proud father of an amazing 6-year-old son, Brody, who is a very good fisherman himself.  Besides all the local fishing I have done, I have fished in Aruba, Costa Rica, and Venezuela.
Do I need my own kayak?
While some of my clients do have and use their own kayaks, I have kayaks available for use.
Do you offer other fishing adventures other than kayak trips?
I also offer wade fishing, surf fishing, and freshwater fishing adventures.
Is this something that children can do?
Yes! My son, Brody, now 6, has been fishing with me for years.  There is always a fishing adventure to be had.  I base your trip on the age of the people in your group and the anglers' experience level.
What kind of fish would we be fishing for?
All inshore species (for example, trout, redrum, flounder, striper…) based on what is running that time of year. I also offer freshwater trips, chasing largemouth bass, and panfish.
Do you only do fishing adventures during the summer?
No, I fish all year round.
Should I bring my own fishing rod?
If you have a favorite, of course. Otherwise, I supply everything you will need.
Do you offer any other services?
I've done crabbing trips, pier fishing, sunset kayak trips, I'm up for just about anything fish related. I have clients that bring their boats when they come to vacation here but are not familiar with our waters and fishing spots.  I act as a guide on their boat.
How much would a trip cost?
Pricing is based on the number of people, length, and type of trip. Call or email to discuss what works for you or your group.
To see what Island Life Outfitters, Mikey, his son Brody and his clients have been catching watch his videos on YouTube, under Island_Life_252.
Also, follow Mikey Sabadic on Facebook or Island_Life_252 on Instagram.
For more information or to book a trip, you can contact Mikey through Facebook, Instagram, email (mikeywsabadic@gmailcom) or text (252) 619-1148.