Classic Coastal Building & Remodeling on the Outer Banks of North Carolina
collaborate with us to create the home of your dreams!
Since 1996, Mark and Sandy Martin have been dedicated to creating award-winning custom homes and renovations on the beautiful Outer Banks. Together with their talented team of professionals, they bring dreams to life. Mark oversees every detail of construction, ensuring that project homesites are handled flawlessly, while Sandy takes care of client meetings, home selections, marketing, and accounting with utmost diligence. Their commitment to open communication with clients shines throughout the entire homebuilding process. Reach out now to schedule a meeting and discuss your beach home renovation or new building project. License #75383.
Our Commitment to Clients:
We are devoted to delivering an exceptional experience, leaving a lasting impression, and earning "clients for life" along with countless referrals. Sandy believes that ongoing communication is the key to success in every real estate transaction.
We always knew we were in great hands!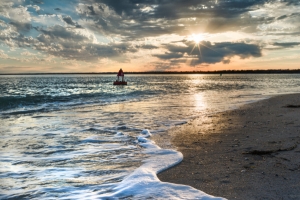 We cannot thank Mark and Sandy enough for the beautiful home their Company constructed for us! As non-resident homeowners living 400 miles away, we always knew we were in great hands!  We met them at the Parade of Homes in one of the homes Sandmark Custom Homes built. They were easy to talk with and advised us on what to look for and how the process would work to build the new beach house we had always dreamt of owning. A couple of tours of other new and remodeled Sandmark projects and we knew they were our Contractor.
Contract to construction was a breeze.  With little more than a vacant lot and a set of house plans we purchased locally; we were ready for our dream house. Mark and Sandy knew we had a limited budget and worked well within it to make it a reality. Sandy has an impeccable vision on color selection and finishes.  Her suggestions were always on point each and every time whether wall colors or fabrics. It was like an HGTV experience with Sandy selecting fixtures and finishes with Sandmark's long-time vendors. Early on we realized Sandy knew the look we were going for in our new beach house and agreed as a family to have her make any decisions she saw fit on the finish of our home. Perfection! Mark would constantly provide us with recommendations he saw on our home plans that would improve function and flow in our home and was very patient with us. We are so glad we followed and implemented his recommended changes because the end results are prominent and striking!  Sandmark would periodically email us construction photos as work progressed which was exciting to see as our dream started to become a reality.
Our home was built on schedule and within budget. It was amazing how smoothly the process went from start to completion living so far away. The quality and finish of our home stand out.  Almost two years after construction, our house is solid and will last. To date, we have had no warranty issues or callbacks. You don't find that kind of quality with most contractors very often today.
If you are thinking about building that dream beach house, Sandmark Custom Homes is the builder to use. They have many vendors and contacts that can make a complicated process into an easily manageable adventure. We are so happy we met Mark and Sandy and consider them good friends to this day. Try to find any contractor that you can say that about after building or remodeling a house! Sandmark built our beach house with such quality and sincere care, it was as if they built it as their own beach house!
Life is short – Build the beach house!
Mike & Chrissy LaRuffa