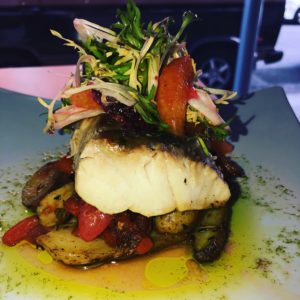 This Seared Maryland Rockfish recipe will be a delight to your tastebuds! This dish was created by Executive Chef Sam Martin, located at Three Notch'd Brewery in Roanoke, Virginia. 
Roasted Fingerling Potatoes:
Mix fingerling potatoes. 1# (sliced in half)
Fresh Rosemary 2oz (chopped)
Fresh Thyme 2 oz- (chopped)
EVOO 3 oz
Directions: Roast for 20 minutes or until tender.
Stewed Tomatoes:
tomatoes 3#
salt 1tsp
Directions: Bring a pot of water to a boil, then drop the tomatoes in the water for 5 minutes. Transfer tomatoes to ice bath. Peel the skin off the tomatoes and roughly chop. Place chopped tomatoes into a sauce pot and add the salt. Cook until they are softened.
Chive Oil:
chives 4 oz
blended oil 1 qt- (chilled)
Directions: Blanch chives in 190* water, then shock in ice water. Drain the chives. In a mixer, blend chilled oil and chives. Then remove.
Maryland Rockfish: 
Rockfish 1#
Directions: Remove all scales. Keep the skin on, then score the Maryland Rockfish.
Citrus Salad:
Frisee lettuce 2 heads
blood oranges 1 each
Oranges 1 each
Cara Cara oranges 1 each
rice wine vinegar 3 oz
Directions: Clean lettuce, segment oranges. Mix everything together.
To Plate:
Sauté fingerlings and tomatoes together. Place on the bottom of the plate. Transfer the Maryland Rockfish to the top, skin side up. Then add the salad to the top of the Rockfish. Finally, drizzle oil around the plate. Ready to eat!
Samuel A. Martin, Executive Chef
Three Notch'd Craft Kitchen & Brewery- Roanoke
24 Campbell Ave SE
Roanoke, Va 24011
(252)-202-3819