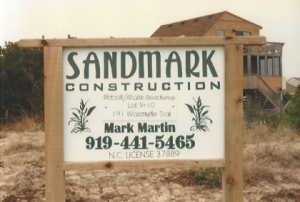 Our beach box on the Outer Banks needed a complete remodel – soup to nuts. Having completed many renovation projects in the past, we knew how critical it was to find the right general contractor. After interviewing several, we chose Sandmark Custom Homes. It was the right decision. From our initial meeting through project completion Mark and Sandy quickly addressed our design issues and concerns. Having a knowledgeable builder, one who can coordinate subcontractors in a timely fashion, was key; Sandmark adhered to start and finish dates. They also maintained a clean job site, enabling everyone to complete their given tasks. Most importantly, Mark was present and engaged in the process. His suggestions were always an improvement on the end result. Our completed project is just as we envisioned, thanks to Mark and Sandy. We would highly recommend Sandmark Custom Homes for anyone planning on building or any Outer Banks remodel.
– John and Denine Phillips
Sandmark Custom Homes is grateful for all of our clients and their feedback to help our company to be the best it can be. We are thankful for the time we have been able to spend with the Phillips working on remodeling their home. If you're interested in starting a home renovation or building project along the Outer Banks, contact Sandmark Custom Homes at (252) 261-1123 or email us at [email protected]. We are happy to answer any questions you may have.