The spring temps are warming up and as expected so is inshore fishing.  Mikey Sabadic, of Island Life Outfitters, has been running kayak fishing trips closer to the island and is having good luck catching trout and redfish.  The bite is just starting to heat up. Weather patterns keep the sound temps fluctuating, fishing will only get better as the temps continue to rise.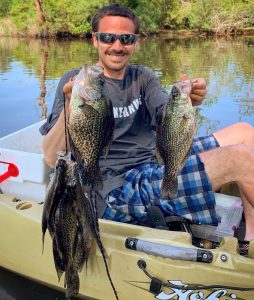 Bass fishing is solid right now with bass on beds and feeding for spawn.  It's a great time to hit the freshwater side of things. The surf has continued to slowly get better with a few break-through days this past week, with some really nice fish on jigs including trout, redfish, and stripers.
With bait fishing we are seeing a few sea mullet,  also pufferfish, dogfish, and scattered puppy drum. Wade fishing is on the rise in the sound as well and will hopefully be consistent by the end of the month.
Whether you are an experienced angler, new to fishing, young, old, or in between, there is a fishing adventure for you.  Mikey, through his company, Island Life Outfitters, is sharing his love and knowledge of fishing with clients, from near and far, that want to experience more of what the Outer Banks has to offer.
To see what Island Life Outfitters, Mikey, and his clients have been catching watch his videos on YouTube, under Island_Life_252.
Also, follow Mikey Sabadic on Facebook or Island_Life_252 on Instagram.
For more information or to book a trip, you can contact Mikey through Facebook, Instagram, email ([email protected]), text (252) 619-1148 or www.islandlife252.com.