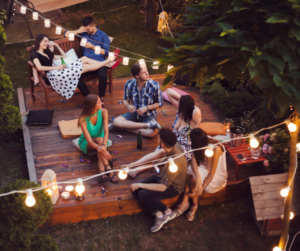 If you want to have an entertaining backyard to have family and friends over, this post is for you! This featured home is located in Austin, Texas but that doesn't mean you can't achieve the same results. A stylish new entertaining patio and children's play area transformed their backyard and gave us a lot of ideas. Some of the new features included sliding glass doors open from the home's living room onto a new outdoor entertaining patio and cushioned wraparound bench seats beckon from across the lawn. Can you agree it's gorgeous? Continue to read more and consider this your next outdoor project.
Check out the article, "Family-Friendly Backyard Offers Enjoyment for All Ages" by Lauren Hoang with Houzz. She highlights the step by step process the designers took to achieve beautiful results. First, starting with the patio. The home-owners wanted to expand their outdoor space with a kitchen and a dining area. They got creative and added unique elements to achieve the designed look. Also, did you see the built-in seating? It's perfect for hosting a party or having a group over. The functionality is perfect!
If you're looking to achieve an entertaining backyard, give us a call and we can help with a remodel! Contact us here.