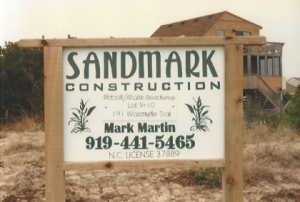 We have worked with Sandmark Custom Homes on several renovation and addition projects. The date listed below is for the most recent project, but we have been using Sandmark Custom Homes since 2002. They have always hired the best subcontractors they could find; come in at budget, even when we have made changes; and completed the project when they said they would. Mark deals with local suppliers, so as the homeowner, you get your materials on site on time. His subcontractors are courteous and trustworthy. I never have any worries about them being in my home. Mark is on site everyday supervising the work. Any problems we have had when the job was finished, he has been very quick to respond and make corrections, and even years after the work were completed. We have so much confidence in his work, that we don't even get bids anymore from other contractors.
– Jim & Bobbi Defenbaugh
Sandmark Custom Homes is grateful for all of our clients and their feedback to help our company to be the best it can be. We are thankful for the time we have been able to spend with the Defenbaugh family working on their renovation projects. If you're interested in starting a home renovation or building project along the Outer Banks, contact Sandmark Custom Homes at (252) 261-1123 or email us at [email protected]. We are happy to answer any questions you may have.