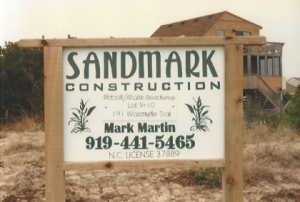 We would like to recommend Sandmark Custom Homes to anyone looking to build or renovate a home on the Outer Banks. Every time we spend time in our new Sandmark home, we appreciate all of the work, thought and care that went into it. This was our first building experience on the Outer Banks, and using Sandmark Custom Homes was the best decision we could have made. From start to finish Mark and Sandy were honest, professional, creative and responsive. Quality work, quality people. We recommend them highly.
— Jeff Johnson & Diane Tindall
Sandmark Custom Homes is grateful for all of our clients and their feedback to help our company to be the best it can be. We are thankful for the time we have been able to spend with the Tindall family working on their home. If you're interested in starting a home renovation or building project along the Outer Banks, contact Sandmark Custom Homes at (252) 261-1123 or email us at [email protected]. We are happy to answer any questions you may have.