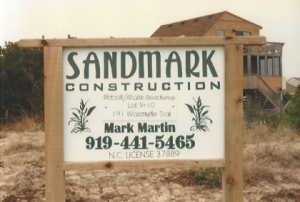 It is with pleasure that I recommend Sandmark Custom Homes. In 2000 my husband and I decided to move into our former weekend retreat on the Outer Banks of North Carolina. After reading reviews of many builders, we chose Mark and Sandy Martin to renovate our beach house and make it into a year-round home. The work was extensive including stripping the house down to bare studs and removing and redesigning the roof. The Martins were able to add a large master bath and master bedroom, dining area, laundry room, half- bath, and second full bath, garage, inside stairs from the second level to the garage, and a ground level entrance and office. In addition, they enlarged several rooms, added decks off from two of the bedrooms, and redesigned the kitchen. The work started in September and we moved in the first week in January. We could not be happier. Mark and Sandy listened to what we wanted and helped us to build within our budget. They kept us informed and even went with us to various vendors to help select tile, flooring, cabinets, carpets, etc. As a Realtor, I have recommended Sandmark to clients who have been as satisfied with their work as we are.
We are still friends with the Martins. Recently, when we had a small leak in our laundry room, we called Mark to ask who he would recommend that we call. He was at our house within ten minutes to find the leak and to give us the name of someone to repair it. This is what I call going far beyond being a builder. It is showing the degree to which the Martins care about their clients.
– Robert & Linda Palombo
Sandmark Custom Homes is grateful for all of our clients and their feedback to help our company to be the best it can be. We are thankful for the time we have been able to spend with the Palombo family working on their renovation. If you're interested in starting a home renovation or building project along the Outer Banks, contact Sandmark Custom Homes at (252) 261-1123 or email us at [email protected]. We are happy to answer any questions you may have.