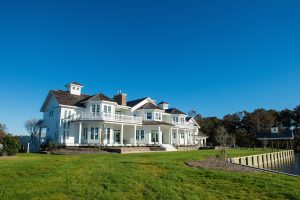 I have used Sandmark Custom Homes for a number of remodeling projects, ranging from smaller things like removing an outside cabana and refinishing kitchen cabinets, to completing a full scale gut renovation of a 7 bedroom beach rental house, that included the retro-fitting of an elevator, and the installation of an in-ground swimming pool in addition to the standard interior work (new kitchen, bathrooms, flooring, etc.). Dealing with Sandmark Custom Homes is always pleasurable. The quality of their work has always exceeded my expectations, and they have always managed my projects with great care, ensuring that things are completed on time and within budget. They also check in on all of my properties periodically, and stand by the quality of their work, which is a huge benefit to me, as I live out of state.
I would recommend Sandmark Custom Homes without hesitation, and my husband and I have in fact hired them to build us a new home.
— Jack & Caroline Baughman
Sandmark Custom Homes is grateful for all of our clients and their feedback to help our company to be the best it can be. We are thankful for the time we have been able to spend with the Baughmans working on many remodeling projects. If you're interested in starting a home renovation or building project along the Outer Banks, contact Sandmark Custom Homes at (252) 261-1123 or email us at [email protected]. We are happy to answer any questions you may have.